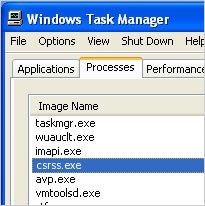 Csrss.exe yra Windows procesas, kuris yra atsakingas už Win32 konsolės langus, naujų temų sukūrimą ar senų ištrynimą. Be to, šis procesas gali padalinti sistemos veiklą į kelias užduotis, taigi jis yra labai svarbus sistemos elementas, kurio niekuomet neturėtumėte sustabdyti. Vis dėl to, jeigu užduočių lange matote kelis csrss.exe procesus, tai gali būti signalas jog jūsų kompiuterio sistema yra užkėsta.
DĖMESIO!
Perspėjame, jog csrss.exe failo vardas yra plačiai naudojamas įvairių virusų, kurie siekia paslėpti savo egzistavimą kompiuteryje. Jeigu matote csrss.exe procesą, kuris yra parašytas su keliomis klaidomis, yra didelė tikimybė, jog jūsų kompiuteris yra užkrėstas. Labiausiai paplitę procesų vardai, kurie rodo, kad kompiuteris yra užkrėstas, yra csrsc.exe, csrs.exe, csrsses.exe, csrssc.exe ir csrse.exe. Norėdami išsiaiškinti ar jūsų kompiuteris nėra užkrėstas, turėtumėte patikrinti jį su viena iš šių antivirusinių programų: SpyHunter, STOPzilla, Malwarebytes Anti Malware.
verdict - status of the file:
diagnosis required
Virusai.lt research center gathers and checks all information that is related to csrss.exe. We ask ourselves, 'Can this file be malicious?, 'Is this filename used by Malware?', and similar. The status of the file is just our opinion, which is made according to our researches.
DIAGNOSIS REQUIRED status means that this filename is related to viruses. Note that there are many dangerous files with the same names as safe files. Use the Advice below:
advice:
If your computer seems sluggish, or you are suffering from unwanted advertisements and redirects to unknown websites, we highly recommend you to scan it with reputable anti-spyware program. Do some FREE scan tests and check the system for unwanted applications that might be responsible for these problems.
We might be affiliated with any product we recommend on the site. Full disclosure in our Agreement of Use.
By Downloading any provided Anti-spyware software you agree to our
privacy policy
and
agreement of use
.
Alternate Software
Removal guides in other languages