Smart HDD yra nesąžininga programa, kuri rodo klaidinančius pranešimus apie kietojo disko klaidas ir sistemos problemas. Ši programa siekia jus įtikinti, jog jūsų kompiuteryje yra daug problemų, kurias galima pašalinti tik mokamos versijos pagalba. Prisiminkite, jog tai yra tipiškas metodas išvilioti iš žmonių jų pinigus. Smart HDD siekia jus apgauti ir privesti sumokėti už visiškai nenaudingą programą. Smart HDD yra platinama naudojant Trojos arklius. Dažniausiai, jie slepiasi užkrėstose svetainėse, kurios yra melagingų reklamų ir panašaus turinio. Jeigu pastebėjote, kad jūsų kompiuteris yra užkrėstas, prašome naudoti mūsų žemiau pateiktas Smart HDD pašalinimo instrukcijas ir ištrinti šią programą iš savo kompiuterio.
Kai tik trojanas parsiunčia S.M.A.R.T HDD į kompiuterį, jis taip pat sukonfigūruoja šį virusą pasileisti automatiškai. To pasekoje, virusas sugeba pradėti rodyti savo padirbtus pranešimus kiekvieną kartą kai jis yra perkraunamas. Dažniausiai, ši programa pateikia tokią informaciją apie kompiuterį:
Your computer is in critical state. Hard disk error detected. As a result it can lead to hard disk failure and potential loss of data. It is highly recommended to repair all found errors to prevent loss of files, applications and documents stored on your computer.

Hard drive boot sector reading error During I/O system initialization, the boot device driver might have failed to initialize the boot device. File system initialization might have failed because it did not recognize the data on the boot device.

System blocks were not found. This has most likely occurred because of hard disk failure. This may also lead to a potential loss of data.

Error 0x0000002E – DATA_BUS_ERROR The Stop 0x2E message is typically caused by failed or defective RAM (including motherboard, Level 2cache, or video memory), incompatible or mismatched memory hardware, or when a device driver attempts to access an address in the 0x8xxxxxx range that does not exist (does not map to a physical address)
Prisiminkite, kiekvieną kartą kai ši programa tikrina kompiuterį, ji sugeba surasti begales įvairiausių problemų. Žinoma, ji vėliau praneša, kad negali jų pašalinti iš kompiuterio ir tam pasiūlo nusipirkti licencijuotą jos versiją, kuri yra visiškai nenaudinga. Mes rekomenduojame nepirkti Smart HDD. Jeigu jūs jau tai padarėte, susisiekite su savo banku dėl pinigų grąžinimo. Jei norite pašalinti šią infekciją, patikrinkite kompiuterį su viena iš šių programų: SpyHunter, STOPzilla or Malwarebytes Anti Malware.
Automatic Smart HDD removal:
We might be affiliated with any product we recommend on the site. Full disclosure in our Agreement of Use.
By Downloading any provided Anti-spyware software to remove Smart HDD you agree to our
privacy policy
and
agreement of use
.
Smart HDD snapshot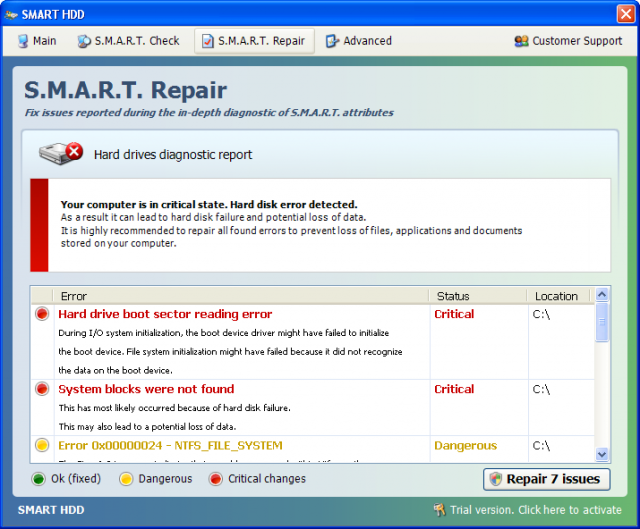 Smart HDD manual removal:
Kill processes:
[random].exe processes are random for smart HDD, you should see strings like: 235633.exe, tetikdwwq.exe
Delete registry values:
HKEY_CURRENT_USER\Software\Microsoft\Windows\CurrentVersion\Run "[random]"
HKEY_CURRENT_USER\Software\Microsoft\Windows\CurrentVersion\Run "[random].exe"
Unregister DLLs:
[random].dll DLLs are random for smart HDD, you should see strings like: 995827.dll, nwwoeldr.dll
Delete files:
%Temp%\\[random].exe
%Temp%\\[random].dll
%Temp%\\dfrg
%Temp%\\dfrgr
%Temp%\\
.exe
%UserProfile%\\Desktop\\Smart HDD.lnk
%UserProfile%\\Start Menu\\Programs\\Smart HDD\\
%UserProfile%\\Start Menu\\Programs\\Smart HDD\\Smart HDD.lnk
%UserProfile%\\Start Menu\\Programs\\Smart HDD\\Uninstall Smart HDD.lnk



Delete directories:


%Temp%\[random]
Removal guides in other languages